---
Now you can trade in your old fashioned Indocoin (IDC) for  wonderful new Kratom.
The ratio of automatic exchange is 1:1
Doing this turns Indocoin instantly into Kratom, but it's all good; Kratom is much cooler.
IMPORTANT: You can't just send Indocoin to Kratom wallet, won't work. Kratom addresses start with "K".
MOVING OVER FROM INDOCOIN
Find your AppData folder:
Windows key + R, then type  %appdata%
and hit Enter.
BACK THIS UP FOLDER. COPY THE FOLDER TO YOUR DESKTOP BEFORE PROCEEDING!!

Then just download the Kratom wallet, unzip into %appdata%/roaming/Indocoin
and Kratom will sync w/ that same balance: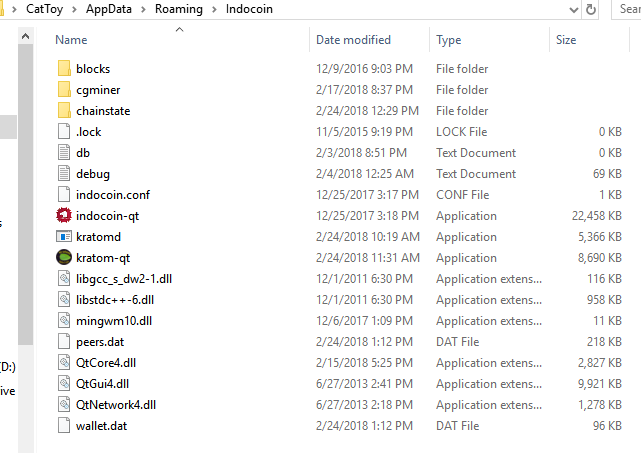 (You can keep the Indocoin-qt in there, in case someone ever wants to send you their old, dusty Indocoin. It will instantly be available in your Kratom wallet as Kratom.)
Now grab this file and unzip it to the
%appdata%/roaming/Indocoin
folder. Click StartWallet.bat and the wallet runs.
You can also make a shortcut to
StartWallet.bat
and put it on the desktop. Then when you want to open the wallet, click that shortcut.
You can right click on that and add the Kratom logo to it, if you know how to do that.
Let the wallet sit running for a few hours to re-sync the blockchain, until it no longer says X Days/hours behind.
---
Bitcointalk announcement and support thread.
---